Indoor Air Quality Services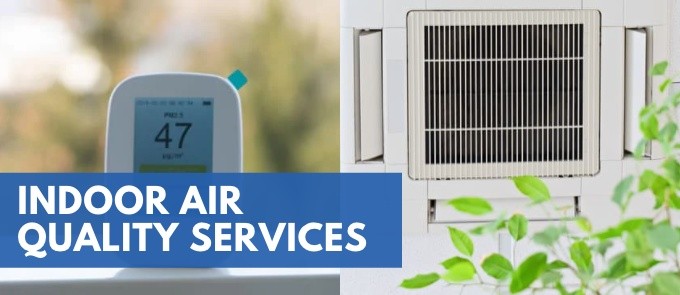 Helping Your Family Breathe Healthy & Clean Air
When it comes to indoor climate, most people focus on enhancing their air conditioning and heating. Although those things are essential, they aren't the only factors you should consider when improving your home's indoor climate.
We help families maintain healthy indoor air quality with our reliable and efficient services. Our technicians are highly knowledgeable, skilled, and experienced in all HVAC and indoor installations and repairs.
We also adhere to a strict code of ethics, which includes providing high-level services, treating every client with respect, and offering honest pricing.
If you hire our team of professionals, you can rest assured that our team will help your family breathe cleaner and healthier air—guaranteed.
Contact our local HVAC experts or call (877) 960-0206 to improve indoor air quality at your home.
What Is Indoor Air Quality?
According to the United States Environmental Protection Agency (EPA), indoor air quality is the air quality within and around buildings and structures about the health and comfort of its occupants, according to Environmental Protection Agency (EPA).
Indoor air quality is influenced by temperature, humidity, ventilation, and potentially toxic chemicals or pathogens present in the building.
Why Is Indoor Air Quality Important?
Indoor and outdoor air quality has a significant influence on our health and comfort. You may notice some of the more prominent side effects of indoor air pollution, like an unpleasant odor, but many others go undetected.
Indoor air pollution may lead to a variety of health problems, including:
Headaches
Fatigue
Sore eyes
Burning nose
Worsening allergies
Respiratory issues
Flu-like symptoms
Heart disease
Cancer
Other severe, long-term conditions
Death, when carbon monoxide or other pollutants are present in high concentrations
Indoor Air Quality Cleaning System Installations
If you want to be healthier and more comfortable in your house, start by improving the quality of the air inside. For your environment and lifestyle, our local staff provides a comprehensive variety of indoor air quality services.
Our air quality experts can upgrade your heating and cooling system into a complete-house air treatment center. We suggest using advanced air cleaning systems like MicroPower Guard filters, designed to remove the tiniest particles from the air to reduce pollutants.
The OxyQuantum UV sterilization systems also aid in the reduction of germs and organic odors. Store-bought filters can't remove these tiny allergens, as well as germs and gases.
Duct Cleaning
The EPA recommends that you have your air ducts inspected by a professional heating and cooling contractor. If your technician finds that your air ducts have a lot of mold, dust, dirt, or other impurities, as well as a musty smell, they may advise you on duct cleaning.
If you're concerned about the air quality in your home, it's crucial to take precautions. This is especially important if one of your family members has asthma, allergies, or other symptoms that may be linked to indoor air pollution.
Do you need an emergency HVAC repair? Call Us Today
Air Filters & Purifiers
Air filtration and purification systems are used to remove airborne pollutants from the air supply in the house. They include simple mesh filters for the removal of pollutants. We regularly recommend the installation of an air conditioner with a high-efficiency filter to improve air quality.
Humidifiers & Dehumidifiers
Humidifiers and dehumidifiers are used to maintain the humidity levels in your house, either by adding or removing moisture from the air. If your air is dry or damp, a humidifier or dehumidifier is recommended.
Breathe Easy With Our Quality Indoor Air Quality Services
If you need Indoor Air Quality service, call us – we're here to help! Our team of experts is ready and waiting to partner with you to create the perfect indoor air quality plan for your specific needs.
We offer various services, including commercial duct cleaning, ventilation systems installation/repair, odor remediation treatment options, mold abatement solutions, and more.
No matter what type of work is needed or how big it may be in scope, our goal is always 100% customer satisfaction.
If you need assistance enhancing the air quality in your home, contact our indoor air quality experts today for an estimate: (877) 960-0206!
Frequently Asked Questions